Delft (NL), 22 august 22 – september 27  2015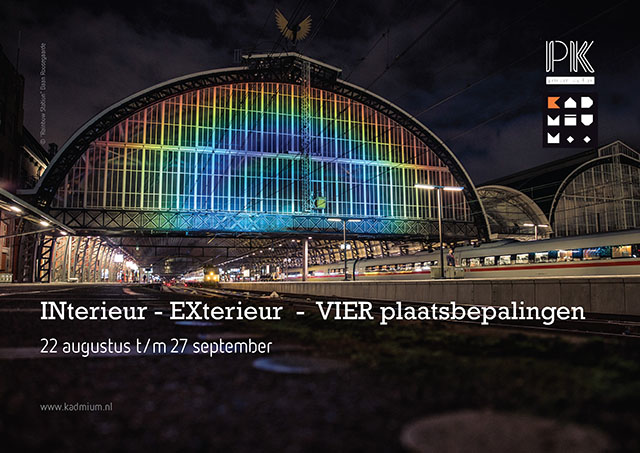 INterior – EXterior  –  FOUR landmarks
Arts Centre Kadmium once again is searching for its place. By moving to the Prinsenkwartier, we find ourselves in a former convent building, as the close neighbors of several arts organizations, including Museum Prinsenhof. This presents the challenge to look and consider ones place. How do we work together? How do we differentiate ourselves? Can we, at this new location, reach a new audience? How can we be a significant factor in the Delft art scene?
Kadmium of course investigates this through artistic means. With exhibitions like INterior – EXterior which consider the term 'to move' in a broader context. Where one lands and is found perching on a well-planned spot, the other is set unintentionally adrift. Coby Brinkers is the curator of the exhibition and has approached four artists to translate these thoughts into a concrete form.
The journey to another space begins with 'Rainbow Station' from Daan Roosegaarde, a projection he made for the 125-year old building of the Central Station in Amsterdam. For this projection he uses a liquid crystal technology that has been recently developed by astronomers at the University of Leiden. The work represents the magical color spectrum that is hidden in ordinary light and is visible only in exceptional circumstances, unfolding – just – on the border between day and night.
The journey to another destination is not without danger. Trudy Kunkeler evokes the courage of seventeenth-century navigators who, with only rudimentary maps to guide them, went out to meet the immeasurable. Her ceramic Maritime Landscape appears as a constantly repeated poll of length, width, depth and height. The one who travels from A to B must also be able to determine their location.
Mark de Weijer tunes his work to its specific location. He explores the space – the almost abstract remnants of a former convent building – and translates it into paper wall coverings. The handmade sheets, coming from a water mill , are applied with thin layers of watercolor paint to achieve colour. Together, wall and paper create the picture, which urges us to take time for the perception of color and space.
Who lived in earlier time at this location in Delft? Janneke Kornet explored the special history of three generations of women associated with the Prinsenhof. Anna of Saxony, the second wife of William of Orange; their daughter Emilia of Nassau and her daughters, the Princesses of Portugal. What kind of lives did these women lead?