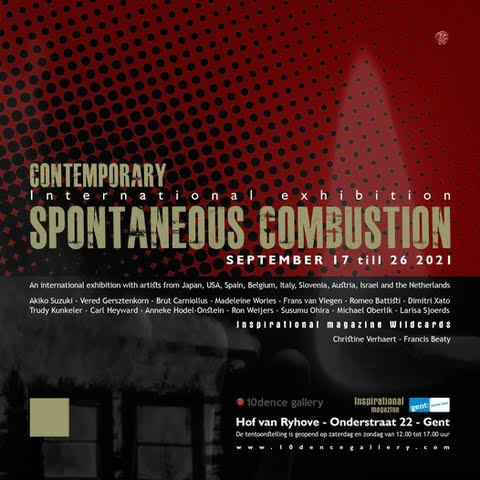 17-09-2021 t/m 26-09-2021
Hof van Ryhove
Onderstraat 22
Gent – Belgium
Very pleased to announce that our previously corona-restrictions delayed exhibition project 'Spontaneous Combustion' received a go ahead from the Belgium authorities today.
Spontaneous Combustion is an international contemporary exhibition with artists from Japan, USA, Spain, Belgium, Italy, Slovenia, Austria, Israel and the Netherlands that will take place from September 17 till 26 2021 at exhibition location 'Hof van Ryhove' right in the historical city center of Ghent in Belgium (Onderstraat 22 – Ghent).
We are happy and proud to introduce new work from the following international group of artists: Akiko Suzuki – Japan/USA, Vered Gersztenkorn – Israel, Brut Carniollus – Slovenia, Madeleine Wories – USA, Frans van Viegen – the Netherlands, Romeo Battisti – Italy, Dimitri Xato – Catalonia, Trudy Kunkeler – the Netherlands, Carl Heyward – USA, Anneke Hodel-Onstein – Austria, Ron Weijers – the Netherlands, Susumu Ohira – Japan, Michael Oberlik – Austria and Larisa Sjoerds – the Netherlands.
Opening exhibition will take place on september 17th 2021 at 15.00 hours
Exhibition opening time:
Friday 17 september 2021 from 15:00 till 17:00 
Saturday 18 september 2021 from 12:00 till 17:00 
Sunday19 september 2021 from 12:00 till 17:00 
Friday 24 september 2021 from 12:00 till 17:00 
Saturday 25 september 2021 from 12:00 till 17:00 
Sunday 26 september 2021 from 12:00 till 17:00