Balance in Chaos - Barcelona - 2022
Balance in Chaos – Barcelona –  l'Associació Ceramistes de Catalunya – 2022
Revista internacional CERAMICA - 2020
Revista internacional CERAMICA nr.157, p.56 – 58
Article Antonio Vivas, (click thumbnail for enlargment):
La vida mineral, Carles Sánchez - 2019
imatge de Carles Sánchez
Carles Sánchez
Estudis Literaris
Dj., 21/02/2019 – 01:00
La vida mineral
Vull acabar aquest recorregut per les vies de la relació entre art, literatura i natura amb aquell fonament –més que simbòlic– de les nostres existències: la roca. I dic més que simbòlic perquè hi caminem, basteix les nostres cases, els nostres sostres, durant molt temps va contenir els murs de les terrasses possibilitant cultiu a la muntanya i és d'una presència insubstituïble en el nostre paisatge.
Però la roca també és perillosa, ho sabem. Per això contenim la seva embranzida darrere les xarxes metàl·liques, protegim les carreteres dels despreniments, observem amb angúnia les tarteres, com si fossin a punt de caure. També perforem, dinamitem –i les primeres vagues i manifestacions obreres venen d'aquí–, piquem i fem lloc a la falda de la muntanya per als nostres edificis i els nostres eixamplaments viaris. La roca no ens és cap desconeguda.
Per abordar aquesta relació em remetré a una troballa recentíssima –tot i els anys de la seva publicació– i que ha inspirat la concreció d'aquest article. És el catàleg 5 trajectes, del 1996, la primera edició dels Tallers d'art que s'instal·laren a l'actual caserna de bombers de la Massana. En formaren part, entre aquests cinc artistes, el Joan Canal i la Trudy Kunkeler.
Vull parlar de les seves contribucions perquè són les més pertinents sobre el tema al qual dedico l'article d'avui. Com en tota ocasió, em refereixo a alguns exemples que no esgoten les mostres d'aquesta relació –d'aquesta via–, si es comença a buscar se'n trobaran a la literatura i les arts. Vegeu, sense anar més lluny –i portant a col·lació un bri d'actualitat–, quin és el destí d'en Targa, personatge principal a La nouvelle Andorra, d'Isabelle Sandy.
La contribució de l'artista berguedà Joan Canal en aquella ocasió va ser del tot sorprenent. Supera el que comprendríem com a relació amb la pedra. I la supera a través del ritu. La pedra es transforma en màscara, en vestit, en element adossat al cos humà. Representa i alhora pesa. És tan primitiu com el seu nom evoca. I la fotografia de la posada en escena d'aquells rituals, d'aquells cossos que amb la roca esdevenen genis, es conserva en llibres de pissarra. Roca, ferro, corda i cossos. M'agrada particularment el vestit dels tres cercles de pissarra superposats. Sobre el suport em semblen un ready-made afortunat, com un sistema solar privat del centre; sobre el cos els trobo un exercici de voluntat, la dificultat de ser aquell centre.
De l'artista holandesa Trudy Kunkeler m'agraden les fotografies de la pedra. Hi ha una mirada molt afinada que trobaria, a la roca viva, una geometria en brut i una poesia de la força mineral. Aquesta és la meva sospita, la meva intuïció sobre la mirada que representen aquelles fotografies. No em cal, ho confesso, gaire cosa més. És la roca, en la seva configuració natural, tal com la trobem a les tarteres i a les parets vora el riu, allò que em detura, allò que m'absorbeix. No hi ha pareidolia ni fenòmens mòrfics similars, tot es redueix a contemplar la pedra pura llançada a l'exterior.
La mateixa artista té, però, un altre treball fotogràfic de raó i factura ben andorranes: la roca enxarxada. Aquí, a la roca, se l'hi suma l'acer i es testimonia l'intent de contenció. Presos en conjunt, aquella simple imatge ens enuncia quin ha estat el nostre passat i el nostre present. Però gaudeix també d'aquella qualitat de bellesa buida de raó. Una qualitat rara, però que per apreciar-la només ens cal mirar la muntanya, mirar-la de prop, quiets, concentrats en la vibració imperceptible, sorda, del material.
La roca està coneixent una revalorització en el nostre discurs simbòlic i cultural. Ara mateix la roca rep homenatge en diferents aspectes, però la pedra ja hi era. La roca sempre ha estat allà. Potser és per aquesta raó que la recuperem en temps d'incertesa: la roca i el temps geològic és allò proper que més s'assembla a l'eternitat.
de: Diari digital d'Andorra Bondia, 21-02-2019
Review In Between Sculpture, Trudy Kunkeler - 2019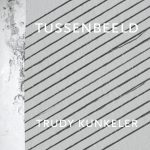 revista internacional Ceramica, nº 152, p.50
revista de libros / book review
www.revistaceramica.com
www.infoceramica.com
libros, Tussenbeeld, por INFOCERÁMICA en 9 abril 2019
In Between Sculpture, Trudy Kunkeler - 2018/2019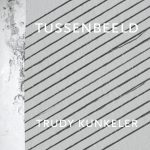 – in own management edition, 200 copies, 2018
– review de kleineK, p.50, digital ceramic magazine, September 2018
– review Klei, keramiek magazine, p.36, January/February 2019  
Excercises in crossing the border, Elisabeth de Schipper - 2018
Published in the book In between sculpture by Trudy Kunkeler, self-published.
To order via the order form on the website or mobile +31(0)619 328 798
Jan Eijkelboom on 'Change of Elements' - 2003
Writing about visual arts is difficult. Nevertheless, like everywhere where boundaries are vague and reference points sometimes not available, they are the subject of endless discussion. Like Francis Bacon once said: "If I could explain my paintings I would have been a writer."
On the other hand: it has to be tried, time and time again, to say something useful about what cannot be said, only painted, sculpted, etc. Not because of a fact that an exhibition has to be opened or a review has to be written, but because one human being sees a product of art by another human being and, touched by it, wants to explain, also to himself, what he is touched by. He wants to say more than "Oh" or "Ah".
This happened to me when I got acquainted with the work of Trudy Kunkeler. What was the reason I thought these sculptures so special? For I looked upon the work rather as not sculpted sculptures than as ceramics.
Long ago, when I wrote about art for a newspaper, I started a series of articles under the heading "Studio Visits". By having a look in studios and talking with visual artists about the way they worked I tried to solve, or perhaps to avoid, the problem of verbal expression. About the meaning of the work we were brief, possibly also out of some embarrassment.
I applied this visiting procedure again with Trudy Kunkeler. However, I started with a poem about the little house where she lives, hidden behind bushes on a square dominated by big monumental buildings: a magical place in my perception, where someone lives who "makes outstanding books of stone, from cover to cover".
As regards the latter, Kunkeler had made a seat in the Hugo de Groot Square in our residence Dordrecht, from books of the great 17th century lawyer Hugo Grotius, moulded in clay. The statue was stolen almost immediately after delivery and replaced with breath taking speed by a new, this time firmly anchored copy. The statue intrigued me, as a spectator and as a writer. Somewhat later I saw a photograph of a high wall with alcoves or open windows, in which rows of books seemed to stand. It appeared to be tiles which were drying in the draught. The photograph had been taken by Kunkeler in Yemen, where skyscrapers of mud were being built in the middle of the desert. "Chicago der Wüste" is the name of a German book on this subject I once possessed and that has disappeared under the sands of time.
What I saw during my first visit to Kunkeler's studio, was almost in contradiction with the monumentality of her work, which is undeniable, also in the smaller formats. There was a domestic mangle, through which the clay was pulled in order to put it on the table in orderly slices, much like what a tailor does with the pieces of textile from which he is going to make a coat. As mentioned, the result is thus in contradiction with the sculptures Kunkeler makes. In her work, for example, a high rock the size of a human arises, or a sort of leaning cathedral that is reaching for the ceiling, to heaven as it were.
Colour plays an important part too, as we can see in the photographs she made in Northern Spain, for example, of loam-coloured rivers in deep, nearly abysmal valleys. She penetrates such a landscape and then emerges from it like a miner out of a shaft. After that she sets out to recreate the landscape as it were with whatever has been evoked. So art goes to nature and nature returns into art.
Jan Eijkelboom, poet, because of the series , 'Change of Elements'
Van inspiratie tot creatie, Barbara Bunskoek - 2015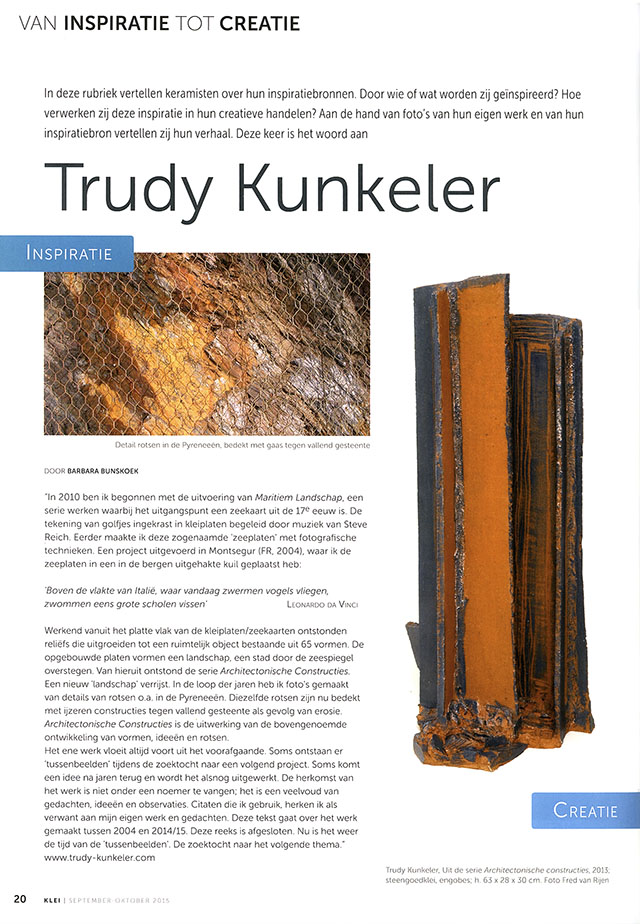 Catalog Maestros de la Cerámica y sus Escuelas, Maria Bofill - 2014
La memoria de la tierra, la tierra de la memoria, p.69 – 74
Wladimir Vivas (click thumbnail for enlargment):
Keramische vormen van Trudy Kunkeler verwijzen naar landschap en architectuur
De afgelopen jaren hanteerde Trudy Kunkeler drie thema's voor haar keramische beelden: Elementsverwisseling, materieverschuiving en versplintering. Twee van die thema's kwamen tot uiting in architecturale vormen die in grote installaties werden getoond, het thema materieverschuiving heeft zij gevisualiseerd in foto's.
Elementsverwisseling
De installatie 'Elementsverwisseling' (1998-2001) lijkt opgebouwd uit kleurrijke stukken rots, maar bestaat geheel uit keramiek. Gelaagde delen waarin stapelingen van platte tegels worden gecombineerd met een steenachtige structuur van blokken die rechtstreeks uit de rotsen gezaagd kunnen zijn. Trudy Kunkeler verwijst met deze installatie naar het rotsachtige landschap en de leemarchitectuur van Jemen, een land in het puntje van het schiereiland Saoedi-Arabië, waar zij een aantal weken verbleef.
'Uit de veelheid van indrukken, vormen en ideeën die ik de laatste jaren heb opgedaan en gebruikt, ontstaan nieuwe vormen. De studiereis naar Jemen heeft er een dimensie aan toegevoegd', zegt Kunkeler over de installatie. 'Het totaal is een vrij letterlijke vertaling van steden in het landschap. Die steden zie je bijna niet, omdat ze in het rotsachtige landschap opgaan, zowel door de kleur als door de vorm. Ik ben bezig met het bouwen van een nieuwe stad, waarvoor ik elementen gebruik die ik op verschillende plaatsen heb gezien.'
Belangrijke inspiratiebron voor haar werkwijze van destijds was het boek 'De Onzichtbare Steden' van Italo Calvino, die over Kublai Khan schrijft, dat deze had gemerkt dat de steden van Marco Polo op elkaar leken, alsof de overgang van de ene stad naar de andere geen reis inhield maar een elementsverwisseling. Behalve door deze rotssteden raakte Kunkeler onder de indruk van de leemarchitectuur van het land. De platte grijze leemtegels worden in stapels in de ramen te drogen gezet. Alleen om de ramen heen wordt een kleur aangebracht – rode, blauwe of gele pigment, gemengd met kalk, zodat de grote grijze vlakken ritmisch worden doorbroken.
Ontwikkeling
Trudy Kunkeler volgde een opleiding in Rotterdam (MO Handvaardigheid) en aan de Vrije Academie in Den Haag. Daarna woonde zij twee jaar in Barcelona waar zij lessen volgde aan de Escola Massana. Terug in Nederland ging zij les geven, experimenteerde met polyester en combineerde klei met papier, karton en hout. Sinds de vroege jaren 70 maakt ze vlakke en ruimtelijke objecten in steengoed die ze opbouwt uit plakken uitgerolde klei. Er ontstonden strakke sculpturale bouwsels en doosvormen. Geruime tijd werkte ze vrij klein, de laatste zeven jaar krijgen de objecten monumentale afmetingen. Belangrijk voor dat monumentale werk was de opdracht voor een kamerscherm in 1992. Een golvende wand in drie delen, die een sculptuur is, maar ook dienst doet als afscheiding. In vervolg daarop ontstond een warmte-accumulerend scherm voor een experimentele woning in Almere. Stapelingen van hoekige stenen – zoals die in de Pyreneeën voorkomen als een herkenningsteken voor een pad – die in het scherm hol zijn en gevuld met water. Aan de raamzijde is het object zwart, zodat de zonnewarmte kan worden opgenomen. De andere zijde is licht van kleur en geeft de warmte af.
De zuilen verwijzen naar de stapelingen van stenen zoals die in het berglandschap voorkomen. Afgesleten door water en wind, geometrisch van vorm en voorzien van ritmische structuren van ingekraste lijnen die de verwering aangeven. Ze zijn geïnspireerd door het berglandschap van de Pyreneeën, waar ze meerdere malen malen per jaar verblijftt, werkend in haar atelier in Barcelona.
Materieverschuiving en Versplintering
Voor de fotoserie 'Materieverschuiving' (2001) gebruikte Kunkeler foto's die ze in de loop der jaren heeft gemaakt van stukken rots, stromend water, sneeuw en andere. De beelden die ze had gefotogafeerd bleken wat vorm betreft op elkaar te lijken, maar waren van een andere materie. Toen ze dat ontdekte is ze bewust op zoek gegaan naar de ontbrekende vormen, waardoor er uiteindelijk een langzaam verlopend beeld ontstond dat in materie verschoof van rots naar water en van sneeuw naar lucht.
De installatie 'Versplintering' (2002) heeft als uitgangspunt de overeenkomst tussen het functioneren van het lichaam en de geavanceerde apparatuur met betrekking tot het oog. 'Doordat ik problemen had met mijn ogen zag ik een versplinterd beeld. Wanneer ik iemand aan zag komen duurde het even voor ik het beeld bij elkaar had', vertelt Kunkeler over het ontstaan van 'Versplintering'. 'Kort daarop zag ik videobeelden via de videofoon. Die beelden toonde een gezicht in blokjes, die langzaam bij elkaar kwamen. Dat deed mij denken aan mijn eigen oogfunctie en gaf mij het idee daar iets mee te doen. Het resultaat was een serie gestapelde platte vlakken, afwisselend egaal zwart en voorzien van een structuur van krassen, die in opgaande vormen bij elkaar werden geplaatst. Het werk is tijdens een werkperiode van drie maanden in het Franse Ste.Colombe sur l'Hers (vlakbij Montségur) gerealiseerd.
Piet Augustijn
'Keramiek Kunkeler monumentaal als rots', Piet Augustijn, De Dordtenaar, 1994
'Kunkeler bouwt nieuwe stad', Piet Augustijn, De Dordtenaar, 1999