05-09 t/m 28-09-2020
10dence – Contemporary Collaboration 2.0
Pulchri Studio
Den Haag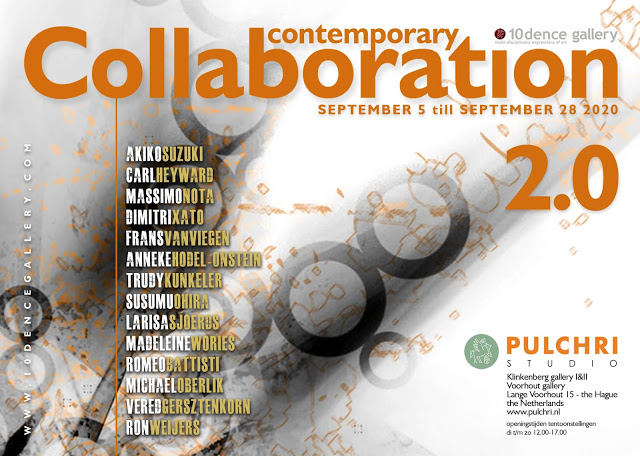 Contemporary Collaboration 2.0 is the continuation of an international exhibition project that focuses on the stimulation of new forms of multilateral cooperation.
The exhibition presents the work of an international group of artists who are all connected to different art networks and who collaborate intensively with each other both in their artistic processes and in the development of the further professionalisation of the various professional practices.
The concept for this exhibition therefore focuses on the stimulation of new and synchronised forms of collaboration, or 'Contemporary Collaboration'.
10dence's aim is to stimulate, introduce, organise and realise alternative, inspiring and inventive pathways to promote and support professional art practice.
A breeding ground that collaborates intensively within various international networks with the aim of providing an independent platform for artists to present and exhibit their work at home and abroad. In collaboration with artists' initiatives such as Global Art Project (GAP), Artist Run Alliance (ARA), High Art Fridays (HAF) and Inspirational Magazine, 10dence investigates how the creation and production of art can be cultivated through innovative network concepts and the development of alternative incubators, residencies and exhibition projects that combine collaboration, experimentation and multidisciplinary practice with strategic sustainability within the individual professional practice.
Contemporary Collaboration 2.0 shows a selection of contemporary artists who relate their work to subjects related to the concept of diversity in all its facets and its perception and interpretation. The exhibition is part of a broader programme of exhibition projects developed by the 10dence platform on behalf of its member artists within the Netherlands, Belgium, Austria and the United States, in which they collectively ask themselves to what extent they can be relevant when it comes to issues of diversity and inclusion. Visual artist Ron Weijers has organised and curated this international exhibition.
Participating artists (alphabetical order): Romeo Battisti (Italy), Vered Gersztenkorn (Israel), Carl Heyward (United States), Anneke Hodel-Onstein (Austria), Trudy Kunkeler (Netherlands), Michael Oberlik (Austria), Susumu Ohira (Japan), Larisa Sjoerds (Netherlands), Anja Steketee (Netherlands), Akiko Suzuki-Heyward (Japan/USA), Frans van Viegen (Netherlands), Ron Weijers (Netherlands), Madeleine Wories (United States) and Dimitri Xato (Catalonia)
The official opening of the exhibition Contemporary Collaboration 2. 0, will take place on 5 September 2020 at 17.00 in the Klinkenberg gallery I & II and the Voorhout gallery at Pulchri Studio aan het Lange Voorhout 15 in The Hague. The exhibition will be officially opened by TV editor and presenter Andrea van Pol. The singer Rosita Molendijk will provide an appropriate musical framework for the opening. The Contemporary Collaboration 2.0 exhibition can be seen from 5 September until 27 September 2020 at Pulchri Studio in the Klinkenberg gallery I & II and the Voorhout gallery.